King William's Statue, Queen's Square, Bristol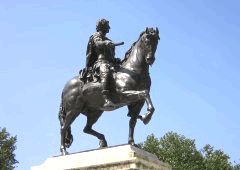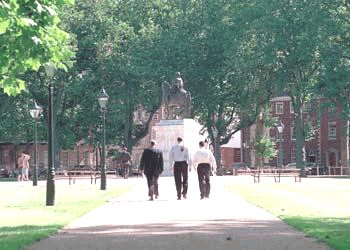 Behind King Street spreads Queen Square , an elegant grassy area focused on a statue of William III by Rysbrack, reckoned to be the best equestrian statue in the country. The square was the site of some of the worst civil disturbances ever seen in England when Bristolians rioted in support of the Reform Bill of 1832, burning houses on two sides of the square; among the survivors was no. 37, where the first American consulate was established in 1792.
Spacious Queen Square has become a popular venue for outdoor events. It was the first residential square outside London. Bristol Corporation planned it as an elegant enclave for the wealthy. The houses were to be solidly built of brick and stone. Commercial tenants and workers' cottages were not allowed. Queen Anne visited Bristol in 1702, when the square was being built, so it was named after her. Another royal touch was added in 1736 - the superb equestrian statue of William III by Michael Rysbrack.